Practice of Divination: The Book of Changes (2013)
Length: 35min 53sec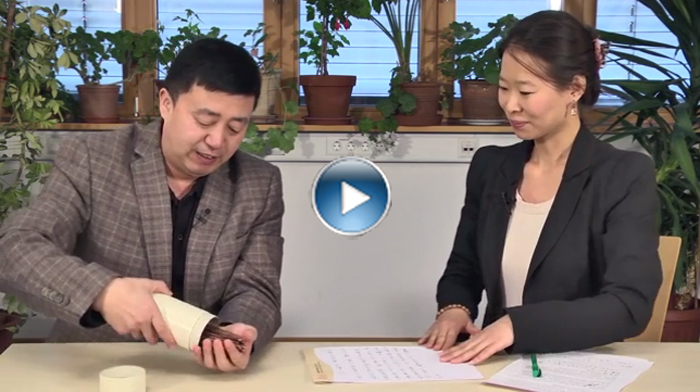 Prof. Dr. Wenzhi Zhang, Shandong University, practicing the Book of Changes
The "Book of Changes" plays a leading role in the development of prognostication in China. As a specialist on I Ching research, Visiting Fellow Wenzhi Zhang (Center for Zhouyi and Ancient Chinese Philosophy, Shandong Unviersity, IKGF Cooperation Partner) explains in a dialogue with Xiaokun Song (IKGF) with the help of a concrete example – a question on the Consortium's future of the IKGF – how the book was and remains used in Asian culture and how it is possible to draw conclusions from milfoil divination.
Three Disciplines at One Table (2012)
Length: 22min 24sec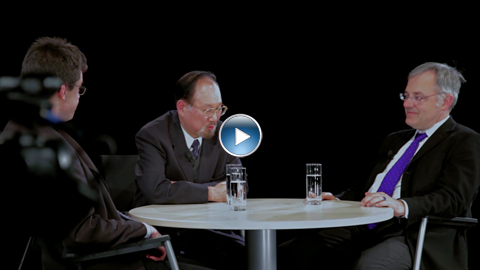 In the discussion led by Lothar von Falkenhausen, three eminent scholars of Early Chinese history meet. Three fields of specialty are involved: early material culture and archaeology (von Falkenhausen), early Chinese philology and oracle bone inscriptions (Kenichi Takashima) and early intellectual history (Michael Puett). Together, the three scholars debate on the Shang and Zhou dynasties: while Ken Takashima focuses on divinatory texts of the 13-11 centuries B.C. and their diction, Michael Puett considers the Western terms of "Fate, Freedom and Prognostication" in the context of Early China. In cooperation with both, Lothar von Falkenhausen attempts better to understand and classify the divinatory material objects of early Chinese archeology.
Gao Xingjian - A Documentary (2012)
Length: 31min 05sec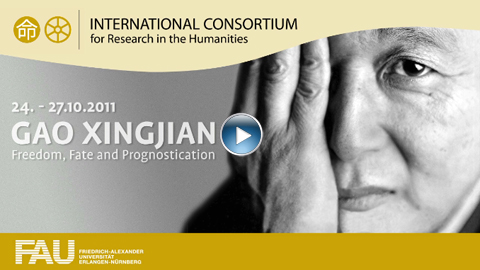 A Documentary on the Nobel laureate Gao Xingjian that developed in the context of his visit to the IKGF in 2011.
At the IKGF a conference with and about Nobel laureate in literature Gao Xingjian took place from 24-27 October 2011. By documenting Gao's visit of several days and through Michael Lackner's interview with him, Gao's artistic transposition and personal attitude towards fate and freedom are revealed. Gao's writing, painting, and cinematic art reflect his inner and outer journey into exile - an exile that is fated. During the conference, several parts of the opus of the laureate were exhibited. The Museum Tucherschloss in Nuremberg presented in a special exhibition the artist's ink on rice paper paintings, the E-Werk in Erlangen showed his films ("La silhouette sinon l'ombre", "Après le déluge" and "Snow in August"), and the City Library in Nuremberg gave a reading on his novel "Soul Mountain". Academics, translators and artists, such as Mabel Lee, Wang Liying, Kwok-kan Tam, Renate Reifenscheid, and John McDonald, describe their impressions of Gao's opus.
---