Esoteric Practices and the Master-Disciple Relationship in the Digital Age – Online Workshop
June 28-29, 2021
How is esoteric knowledge transmitted in contemporary societies where communication technologies allow all kinds of information to circulate and be disclosed to an ever-wider audience? For instance, the young generations in Taiwan can learn about the complex and obscure Chinese tradition of divination through various channels: get personally acquainted with a specialist who agrees to transmit their knowledge and skills, attend a six-month course on horoscopy along with other fellow classmates, or learn the techniques in didactic handbooks and apply them using do-it-yourself manuals or apps. Why and how to engage in a master-disciple relationship when even the most esoteric traditions are available on the Internet and can be shared and discussed in forums, blogs, and social media? Do information technologies dilute the potential of the dyadic relationship between a master and their student or do they make it even more relevant?

On June 28-29, 2021, Stéphanie Homola, SDAC Assistant Professor for Anthropology hosts an SDAC / IKGF joint workshop with a variety of speakers to approach and discuss these questions about esoteric practices and the master-disciple relationship in the digital age.

Poster & Program
Abstracts

The workshop takes place online on zoom. To register, contact stephanie.homola[at]fau.de.



Lecture Series Summer 2021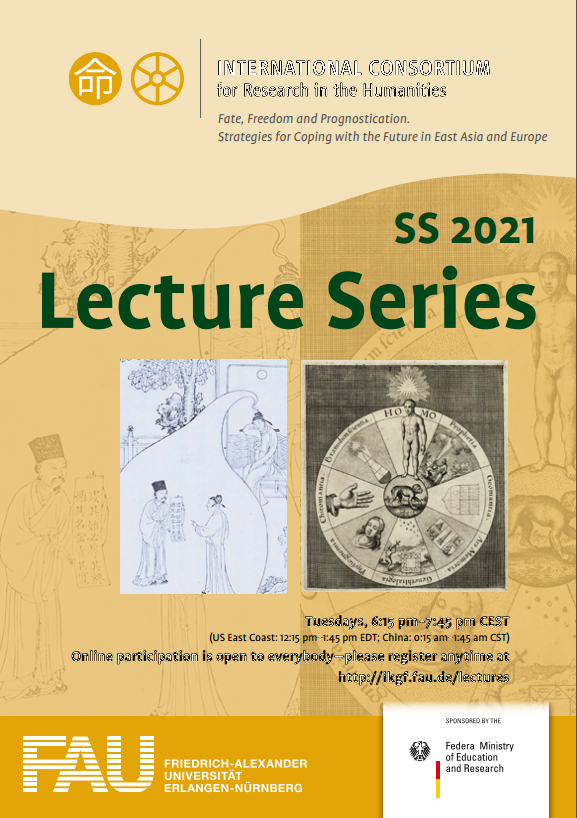 Time: Tuesdays, 6:15 pm–7:45 pm CEST (US East Coast: 12:15 pm–1:45 pm EDT; China: 0:15 am–1:45 am CST)

Registration for online participation: http://ikgf.fau.de/lectures
Download
Schedule
20 April 2021
"Sudden, Unexpected, and Contrary to All Calculation": Coping with Plague in Antiquity
Karl-Heinz Leven (History and Ethics of Medicine; Friedrich-Alexander-Universität Erlangen-Nürnberg)
4 May 2021
Fatal Futures: Prophecy and Its Narrative Function in Middle High German Literature around 1200
Lea Braun (Medieval German Literature; Humboldt-Universität zu Berlin)
18 May 2021
The Layman and the Spirit-Writing Altar: Peng Shaosheng (1740–96) and the Historiography of Divine Communication
Daniel Burton-Rose (Chinese History; IKGF Visiting Fellow)
1 June 2021
Tales of Success and Failure: Predictive Dreams of Imperial Examinations in Qing xiaoshuo Literature
Aude Lucas-Lesain (Chinese Literature; Centre de recherche sur les civilisations de l'Asie orientale, Paris; IKGF Visiting Fellow)
15 June 2021
Escaping the Epistemic Trap: Problemata Literature and Astrological Prognostication
Henrique Leitão (History of Science; Centro Interuniversitário de História das Ciências e da Tecnologia, Lisbon)
29 June 2021
On the Reception and Rejection of Geomantic Divination in Early Modern French and Spanish Literature
Hannah Schlimpen (Romance Philology; Universität Trier)
13 July 2021
Philologisch-hermeneutische Bemerkungen zur Textkonstitution des Zhouyi [Lecture in German]
Na Schädlich (History of Hermeneutics; Universität Osnabrück; IKGF Visiting Fellow)
Subscribers to this mailing list will be kept up-to-date about upcoming events by regular e-mail.
International Consortium for Research in the Humanities
"Fate, Freedom and Prognostication. Strategies for Coping with the Future in East Asia and Europe."
Friedrich-Alexander-Universität Erlangen-Nürnberg
Hartmannstr. 14
91052 Erlangen
Telefon: +49 (0)9131 85 - 64340
Fax: +49 (0)9131 85 - 64360
E-Mail: petra.hahm@fau.de
---