Dr.
Che-chia
Chang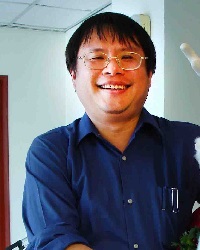 Internationales Kolleg für Geisteswissenschaftliche Forschung "Schicksal, Freiheit und Prognose. Bewältigungsstrategien in Ostasien und Europa"


Chinese personal name: 張哲嘉
Associate Research Fellow
IKGF Visiting Fellow May 2013 - April 2014
(Last change of profile by end of stay)
IKGF Research Project:
Recoding Astrology: The Accommodation of Foreign Astrology in Late Imperial China
Curriculum Vitae
I have been particularly interested in cross-cultural interactions in early modern East Asia, among China, Japan, and the West. In order to explore this academic interest, I have touched on several research topics, including the exchange of medical commodities, ideas of the body, and the transmission of astrology. During my stay in the International Consortium, I would like to develop further my earlier research about Buddhist influence on the astrology of Guolao xingzong, to examine how the Ming-Qing astrologer accessed Islamic and Jesuitical astrology and accommodated the foreign framework into the local customer′s needs as well as the intellectual contexts of Chinese society.
Selected Publications
Books and Editions
Huang Ko-wu and Chang Che-chia eds., Gong and Si: Reconstructing Individual and Collective Bodies in Modern China (Taipei: Institute of Modern History, Academia Sinica, 2000).
Articles
Chang Che-chia, "Astrology and the Eastern-Western Interaction", in Chu Ping-yi ed. New Treatises on Chinese History: The Science, Technology, and Society Volume (Taipei: Lianjing chubanshe, 2010), pp. 423-458.
Chang Che-chia, "The Myth of Rhubarb: The Strategic Rationale and Cultural Implications of China′s Prohibitions on the Export of Rhubarb to Britain and Russia in the Qing Period, in Bulletin of the Institute of Modern History Academia Sinica, 47 (2005, 3), pp. 43-100.
Chang Che-chia, "Medicine and Astrology: Their Encounter at a Cross-cultural Occasion", in East Asian Science, Technology, and Medicine (EASTM) 24 (2005), pp. 52-77.
---