Dr.
Esther-Maria
Guggenmos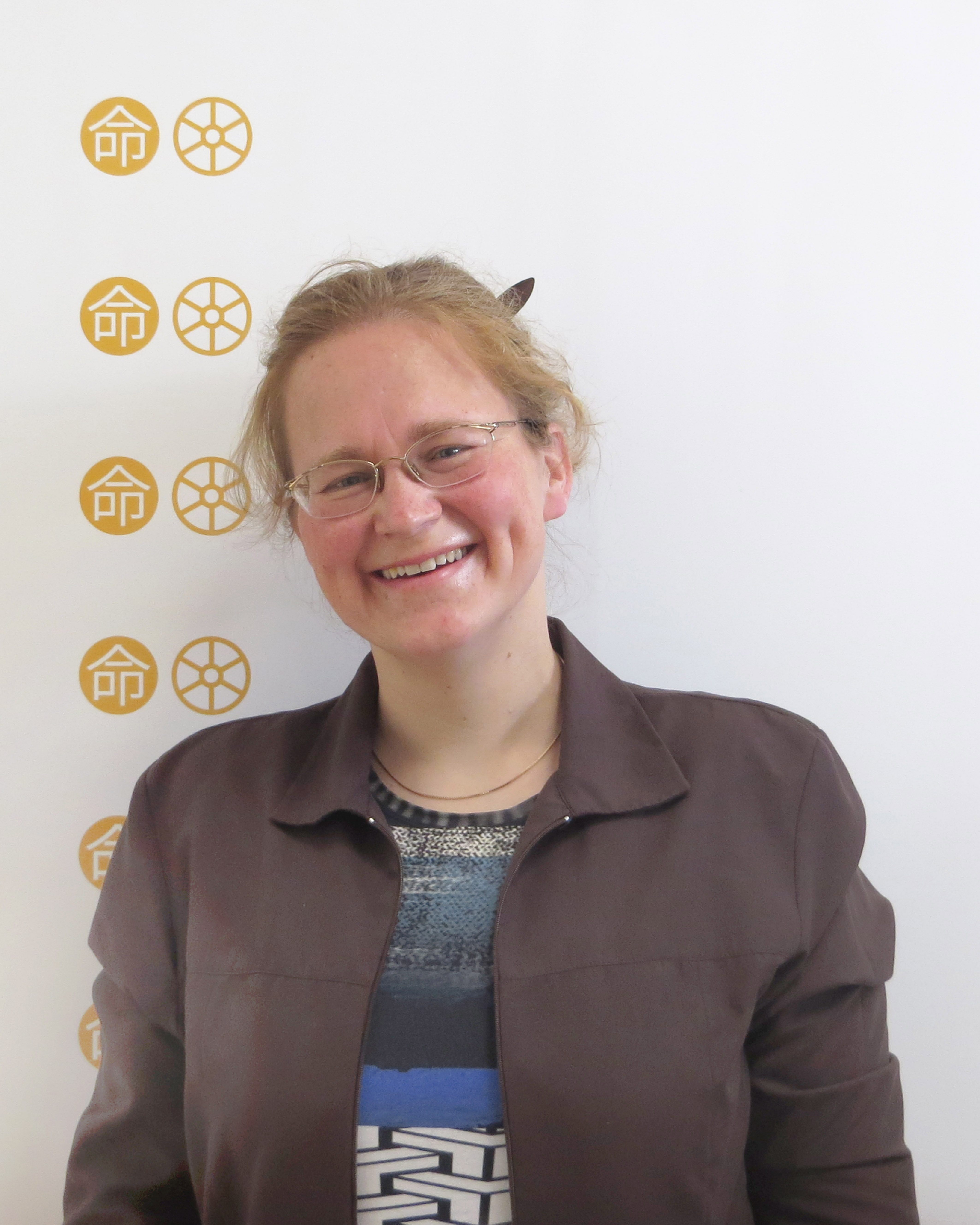 Department Alte Welt und Asiatische Kulturen


Position: Research Fellow and Research Coordinator
Wissenschaftlicher Mitarbeiterin und wissenschaftliche Koordinatorin
IKGF Research Projects:
Buddhist Ritual and Philosophy Responding to a Prognostic Imperative? Transmission, Divinatory Sūtras and the Figure of Ouyi Zhixu 蕅益智旭 (1599-1655)
Divining Monks according to the Shenseng Zhuan , T .2064
Curriculum Vitae
I studied Religious Studies ("Religionswissenschaft"), Sinology, Theology and Philosophy in Münster, Bonn and Taipeh. Finishing my undergraduate education at the University of Münster (Germany), I studied at Fujen Catholic University in Taiwan (DAAD scholarship). After a semester at the University of Bonn, I obtained a Diploma (M.A. equivalent) in Theology (2004) as well as an M.A. in Religious Studies and Sinology (2006) at the University of Münster. At the same time I kept up working at the Seminary of Religious Studies at the University of Münster. From October 2005 till September 2009, I was a member of the Centre for Buddhist Studies and the Department for Eastern Languages and Cultures as Research Assistant of the Research Foundation – Flanders (FWO). In my PhD research I coped with biographical self-constructions of lay Buddhists in contemporary Taiwan. After four years of intense and inspiring research, I am since 2009 - besides coordinating the research projects within the International Research Consortium - inquiring into the relation between Buddhism and Prognostication concentrating on Buddhist concepts and strategies for coping with the future. In general, my main interests are located in the intersections between religious studies and Chinese studies, such as Chinese/Taiwanese Buddhism and its contemporary/20th century developments, transmission processes of Buddhist as well as Christian ideas and functions of Buddhism within hybrid cultures. In addition, I worked on e.g. aesthetics of religion, Huayan-Philosophy, Buddhist concepts of interreligious dialogue, and questions of acculturation of Christianity in the Chinese context.
Bibliography
Guggenmos, Esther-Maria (2004): 愛與和平的世界 (Ai yu heping de shijie) - Eine Welt der Liebe und des Friedens. Reflexionen über das Museum of World Religions in Taipei (Taiwan) ein Jahr nach seiner Eröffnung, in: Religion & Museum: Zur visuellen Repräsentation von Religion/en im öffentlichen Raum - Bielefeld: transcript, p. 159-194.
Guggenmos, Esther-Maria (2006): Engaged Buddhism in Taiwan? Zum Profil eines gesellschaftlich engagierten Gegenwartsbuddhismus. in: China heute XXV (2006), Nr.3 (145): 105-116.
Wilke, Annette / Guggenmos, Esther-Maria (2008): Im Netz des Indra. Das Museum of World Religions, sein interreligiöses Dialogkonzept und die neue Disziplin Religionsästhetik, Münster: Lit 2008.
Esther-Maria Guggenmos / Isabel Laack / Sebastian Schüler (2011): "Agency and the Senses in the Context of Museality from the Perspective of Aesthetics of Religion", in: Journal of Religion in Europe 4.1 (2011) 102–133.
Guggenmos, Esther-Maria (2012): "Der Umbruch zur ′Moderne′ in China, begriffsgeschichtliche Entwicklungslinien und die Rehabilitation von Divination und Mantik im chinesischen Wissenskanon - Historische Forschungsschwerpunkte der Sinologie und Ostasienwissenschaften der Friedrich-Alexander Universität Erlangen-Nürnberg ", in: Jahrbuch der historischen Forschung 2011, p. 53-60.
Guggenmos, Esther-Maria (2012): "Endlich wieder komparativ und systematisch? Die Religionsästhetik als neues Proprium der Religionswissenschaft." (Diskussionsbeitrag zum Hauptartikel von Jürgen Mohn: Wahrnehmung der Religion. Aspekte der komparativen Religionswissenschaft in religionsaisthetischer Perspektive), in: Erwägen-Wissen-Ethik EWE (vormals / previously EuS), September 2012, Jg. 23 (2012), p. 68-70.
Guggenmos, Esther-Maria (2012): "Engaged Buddhism in Taiwan? - On the Profile of Contemporary Buddhism in Taiwan", in: Anita Sharma (ed.): Buddhism in East Asia: Aspects of History′s First Universal Religion Presented in Modern Context, Delhi: Saujanya Boks 2012, p. 226-251.
Guggenmos, Esther-Maria (2014): "′Mrs. Ma′ and ′Ms. Xu′ - On the Attractiveness of Denoting Oneself a ′Buddhist′ in the Increasingly Transnational Milieu of Urban Taiwan ", in: Thomas Jansen, Thoralf Klein, and Christian Meyer, (eds.): Globalization and the Making of Religious Modernity in China, Transnational religions, Local Agents, and the Study of Religion, 1800-Present, Leiden: Brill, p. 156-181.
Lectures and papers at conferences/symposia etc. (selection)
2008 Buddhist Activism in Greater China (Oregon): Does "Engaged Buddhism" Really Reach the People Addressed?: The Impact of Engaged Buddhism and Modernization on Contemporary Biographical Self-construction of Lay Buddhists in Taiwan.
2008 Contemporary Chinese Buddhism and Master Sheng Yen (Taiwan): Analyzing Biographical Self-constructions of Lay Buddhists in Contemporary Taiwan- Methodological Questions.
2008 IABS (Atlanta): Changes in the Biographical Self-constructions of Lay Buddhists in 20th Century - On the Effects of Modernization and "renjian fojiao".
2008 Pluralism and Religious Competition in China in the Age of Globalization (1800-Present) (Cambridge): Does International Buddhist Networking Influence the Biographical Self-constructions of Lay Buddhists in Contemporary Taiwan - Results of Interview based Field Research.
2009 AAR (Montreal): (Re)conversion to Buddhism in the Urban Areas of Taiwan.
2010 Chinese Academy of Social Sciences, Institute of World Religions (Peking): The Spread of Prognostic Techniques in Contemporary Taiwan - a Statistical Overview.
2011 Seminar für Religionswissenschaft (Marburg): Dürfen Buddhisten wahrsagen? - Zum Verständnis und der Verwendung mantischer Techniken im chinesischen Buddhismus
2012 INALCO (Paris): Buddhists Negotiating Prognostic Techniques - The Integration of Cultural Diversity as a Recipe of Buddhists Flourishing
2012 IKGF (Erlangen): Mantic Knowledge in Transfer - The Example of the Brahmajāla Text Family
2012 CNRS-EPHE (Paris): Monastics Divining Good and Evil Karma: A ′Revival′ of Divinatory Practices in Contemporary Chinese Buddhism?
2013 Nanzan Institute for Religion and Culture (Nagoya): Divining One′s Karma as Spiritual Practice - The Sūtra on the Divination of Good and Evil Karmic Retribution, T. 839, between Apocryphal Creativity and Contemporary Practice
2013 Deutscher Orientalistentag (Münster): Tracing the Taxonomies of Mantic Practices - On Two Enumerations of Mantic Practices in the Chinese Buddhist Canon
---