PD Dr.
Esther-Maria
Guggenmos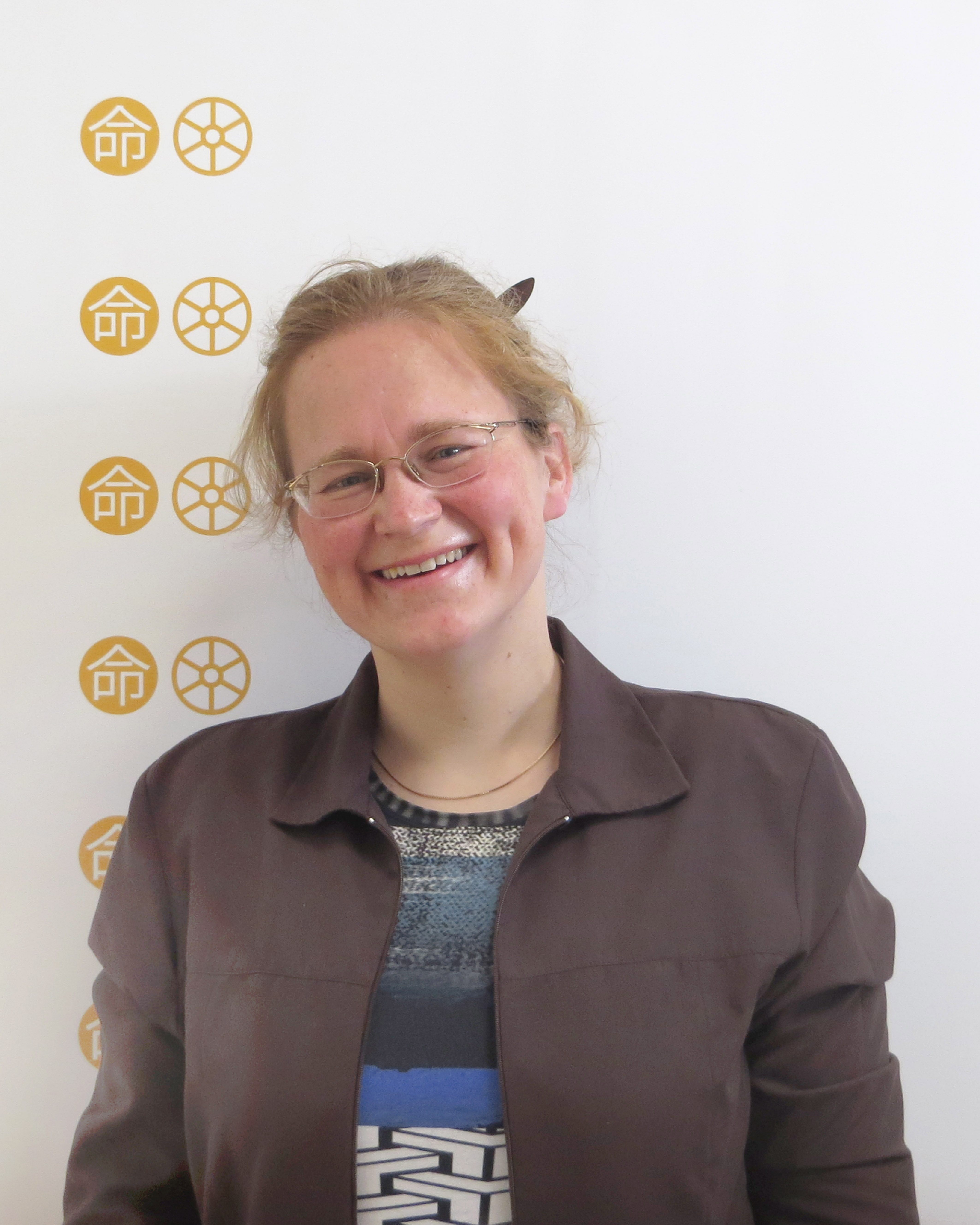 Internationales Kolleg für Geisteswissenschaftliche Forschung "Schicksal, Freiheit und Prognose. Bewältigungsstrategien in Ostasien und Europa"
Hartmannstr. 14
91052 Erlangen
IKGF Research Coordinator October 2009 – September 2014
IKGF Visiting Fellow April 2018 – May 2018
FAU Habilitation Scholarship June 2018 – May 2019
IKGF Visiting Fellow June 2019 – March 2020
IKGF Research Projects:
- Buddhism and Divination - On the Sūtra on the Divination of the Effects of Good and Evil Actions and its Cultural Transmission
- Divining Monks according to the Shenseng Zhuan, T .2064
Curriculum Vitae
Esther-Maria Guggenmos (谷乃曦) is a visiting fellow at the Käte Hamburger Kolleg of the University Erlangen-Nuremberg where she is working on the relation between Buddhism and divination. She completed her PhD on contemporary Chinese lay Buddhism in 2010 (Ghent University). Since 2009, she has added to her expertise in contemporary religion a historical perspective through the study of divination and its socio-political implications in Buddhist biographical writing, especially the Shenseng Zhuan 神僧傳, and the development of divinatory ritual literature. Guggenmos's theoretical interests lie in the field of transmission processes across Asia and religious aesthetics (www.aestor.net). After serving as a research coordinator at the KHC Erlangen, visiting professor of religious studies (Münster), and deputy chair of sinology (Erlangen), Guggenmos is currently preparing a monograph on the Sūtra on the Divination of the Effects of Good and Evil Actions and its cultural history.
Selected Publications
Books
| | |
| --- | --- |
| 2017 | 'I believe in Buddhism and Travelling' - Denoting Oneself a Lay Buddhist in Contemporary Urban Taiwan (Beträge zur kulturwissenschaftlichen Süd- und Ostasienforschung 7, ed. by Eva De Clercq, Franziska Ehmcke, Ann Heirman, and Andreas Niehaus), Würzburg: Ergon. |
| 2008 | (with Annette Wilke) Im Netz des Indra. Das Museum of World Religions, sein buddhistisches Dialogkonzept und die neue Disziplin Religionsästhetik [In the Net of Indra. The Museum of World Religions, its Buddhist Concept of Dialogue and the New Discipline Religious Aesthetics] (Veröffentlichungen des Centrums für Religiöse Studien Münster 7), Münster: LIT. |
Articles
| | |
| --- | --- |
| 2018 | "Fagushan", in: Lukas Pokorny and Franz Winter (eds.), Handbook of East Asian New Religious Movements, Leiden: Brill, pp. 485-503. |
| 2018 | "Qian Divination and Its Ritual Adaptations in Chinese Buddhism", in: Journal of Chinese Religions 46/1, pp. 43-70. |
| 2017 | "A List of Mantic Techniques in the Buddhist Canon", in: Michael Lackner (ed.), Coping with the Future: Theories and Practices of Divination in East Asia, Leiden: Brill, pp. 151-195. |
| 2017 | "Buddhismus", in: Heinrich Oberreuter (ed.), Staatslexikon der Görres-Gesellschaft, vol.I,, Freiburg i. Br.: Herder, pp.790-801. |
| 2016 | "Gesellschaftlich Engagierter Buddhismus in Ostasien und Migration - Eine erste Verhältnisbestimmung" [Tracing Issues of Migration in Engaged Buddhist Movements of East Asia], in: Reinhold Zwick and Marcin Worbs (eds.), Gesellschaftliche Verantwortung und Pastoral in einer mobilen Welt, Oppeln, pp. 167-183. |
| 2014 | "'Mrs. Ma' and 'Ms. Xu' - On the Attractiveness of Denoting Oneself a 'Buddhist' in the Increasingly Transnational Milieu of Urban Taiwan", in: Thomas Jansen, Thoralf Klein, and Christian Meyer (eds.), Globalization and the Making of Religious Modernity in China, Transnational religions, Local Agents, and the Study of Religion, 1800 - Present, Leiden: Brill, pp. 156-181. |
| 2012 | "Der Umbruch zur 'Moderne' in China, begriffsgeschichtliche Entwicklungslinien und die Rehabilitation von Divination und Mantik im chinesischen Wissenskanon - Historische Forschungsschwerpunkte der Sinologie und Ostasienwissenschaften der Friedrich-Alexander Universität Erlangen-Nürnberg" [Overview about the History of East Asian Studies in Erlangen], in: Jahrbuch der historischen Forschung 2011, pp. 53-60. |
| 2012 | "Engaged Buddhism in Taiwan? - On the Profile of Contemporary Buddhism in Taiwan", in: Anita Sharma (ed.), Buddhism in East Asia: Aspects of History's First Universal Religion Presented in Modern Context, Delhi: Saujanya Books, pp. 226-251 (translated and revised version of the article in 2006). |
| 2012 | "Endlich wieder komparativ und systematisch? Die Religionsästhetik als neues Proprium der Religionswissenschaft." Diskussionsbeitrag zum Hauptartikel von Jürgen Mohn: Wahrnehmung der Religion. Aspekte der komparativen Religionswissenschaft in religionsästhetischer Perspektive " [Finally Comparative and Systematic Again? Religious aesthetics as a new proprium of religious studies. Discussion unit responding the main article of Jürgen Mohn: Perception of Religion. Aspects of comparative religious studies in religious aisthetical perspective], in: Erwägen-Wissen-Ethik EWE (previously EuS) 23, pp. 68-70. |
| 2011 | (with Isabel Laack and Sebastian Schüler) "Agency and the Senses in the Context of Museality from the Perspective of Aesthetics of Religion", in: Journal of Religion in Europe 4, pp. 93-124. |
| 2006 | "Engaged Buddhism in Taiwan? - Zum lokalen Profil eines gesellschaftlich engagierten Gegenwartsbuddhismus" [Engaged Buddhism in Taiwan? - On the local profile of a Socially Engaged Contemporary Buddhism], in: China heute XXV, no. 3 (145), pp. 105-116. |
| 2004 | "愛與和平的世界 (Ai yu heping de shijie) - Eine Welt der Liebe und des Friedens. Reflexionen über das Museum of World Religions in Taipei (Taiwan) ein Jahr nach seiner Eröffnung" [A World of Love and Peace. Reflexions about the Museum of World Religions one year after its inauguration], in: Peter J. Bräunlein (ed.), Religion & Museum. Zur visuellen Repräsentation von Religion/en im öffentlichen Raum, Bielefeld: transcript, pp. 159-194. |
| 2004 | Article in the "Database of Research on Chinese Philosophy in Foreign Languages" of the Humanities Research Center, National Science Council, Taiwan, zu Martin Buber: "Die Lehre vom Tao," in: Buber, Martin: Werke. Bd. I. Schriften zur Philosophie. München 1962, pp. 1023-1051 (German and Chinese). |
Reviews
| | |
| --- | --- |
| 2015 | Review of: Religious Experience in Contemporary Taiwan and China, edited by Yen-zen Tsai (Taipeh: Chengchi University Press, 2013). Accessed March 24, 2016. http://chinet.cz/reviews/religion/religious-experience-in-contemporary-taiwan-and-china/. |
| 2014 | Review of: Passing the Light: The Incense Light Community and Buddhist Nuns in Contemporary Taiwan by Chün-fang Yü (Honolulu: University of Hawai'i Press, 2013). Journal of Chinese Religions, vol. 42 (2), 2014, 256-259. |
---